Flaxseed Gel & Argan Oil
Save

$0.00
---
---
Description
Using Flaxseeds and Marshmallow Root to create the perfect gel, experience soft, shiny, defined hair! Who said organic products can't provide hold without all the nasty chemicals? 
Hair Type
This styler works best on type 3 & 4 strands. A little goes a long way. Remember to use the shingling method here - not the praying hand's method.
Organic Ingredients
Distilled Water, Flaxseeds, Marshmallow Root, Argan Oil, Grapeseed Oil, Citric Acid, Xanthan Gum, Citric Acid, Optiphen Plus (a paraben and formaldehyde-free preservative,) Fragrance.
This product will last 12 months and does not need to be refrigerated.
---
We Also Recommend
Customer Reviews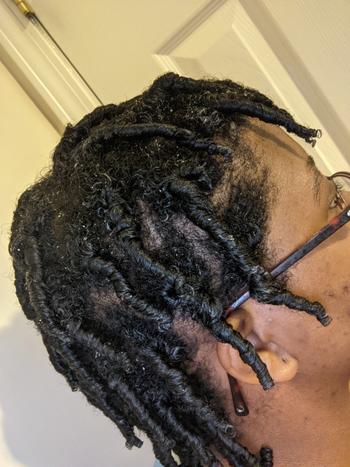 06/11/2021
I recommend this product
Great Hold and Consistency
Love this gel! The consistency is similar to snot, but the hold is great! I used this for finger coils. I use it in conjunction with the aloe leave in conditioner. My finger coils have great hold and shine. My 4c hair was defined & beautiful!! My hair is still a little damp here in the picture and I can already tell it'll be a pretty coil out in a couple days!! Love having an organic gel!!
Alliyah H.

United States
10/18/2021
I recommend this product
Good Curl Definer
Smells amazing. It doesn't take much to work into my hair and get the desired result for my (4a-b) hair. Gives a soft hold as well.
Velvet M.

United States
10/03/2021
I recommend this product
Best Gel
This gel left my hair soft and defined. I have very dense 4c hair and I hate gel. I decided to try this because I wanted my hair to hold better. This paired well with the Kukui cream.
Shalay M.

United States
09/08/2021
I recommend this product
Great product
The gel was perfect for defining my curls. It is also lightweight and has great slip.
Rosta T.

United States
08/20/2021
I recommend this product
Great hold
I like this. I used this gel for my flat twists. I usually have a hard time gripping my hair because I have fine strands & this helped a lot. I paired it with the kukui hydration cream.
Quiandra

United States