Kukui Hydration Cream
Save

$0.00
---
---
Description
Kukui Oil is one of the most moisturizing oils on the market! Paired with Aloe Vera Juice, Macadamia Nut Oil, and Castor Oil to name a few, this cream will help keep moisture in the strands until your next wash day! 
Hair Types
This conditioner works best on Type 3 & 4 curlies. Warning - do not use, if you do not need luscious hydrated strands. If you do - strap in, because this cream is addictive.
Organic Ingredients
Distilled Water, Aloe Vera Juice, Kukui Oil, Macadamia Nut Oil, Castor Oil, Avocado Oil, Sweet Almond Oil, Behentrimonium, Cetyl Alcohol, Optiphen Plus, Fragrance. 
---
We Also Recommend
Customer Reviews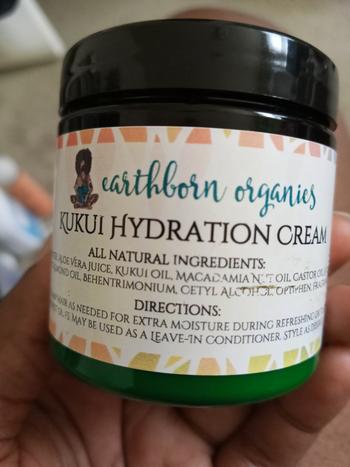 08/05/2021
I recommend this product
Intense hydration!
This leave in conditioner is the best I've ever had. I would usually need to add and oil or butter on top of my leave in but this one is just right by itself. My hair feels so soft, it's bouncy and so shiny.
Quiandra

United States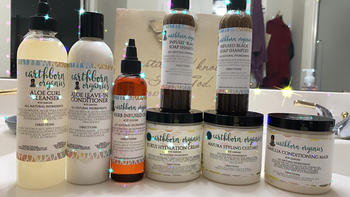 12/23/2020
Staple in my hair are routine.
This is now my go to product for all my styles! Provides good moisture without weighing my hair down.
Tranel H.

United States
11/13/2021
Amazing
If you want long lasting hydrated hair then get this! I'm so glad I got the largest size!
10/03/2021
I recommend this product
Great leave in twist cream
I used this to twist my hair and my hair had moisture for a week. I didn't have to add anything to my hair to retaliate at night. I just twisted it up and the next morning it was as if I added more to keep the curl. This for me saves time because it is a leave in and twisting cream. It's hard to find products for my dense 4c hair which drinks up products and is dry again in two days. This product showed my hair who was the boss
Shalay

United States
04/08/2021
I recommend this product
10 out of 10
When I tell you this is the best hair cream I have put in my hair in my entire life. I use this cream as a leave in, hair moisturizer and even a middle of the week revitalizing cream. This cream is so good, I will always have this cream in my stash. It is so thick yet so moisturizing. Love, love, love!!
Malik H.

United States