Aloe Leave-In Conditioner
Save

$0.00
---
---
Description
Aloe Vera Butter AND Juice provide the ultimate moisture combination in this Leave-In. It's lightweight, creamy, and will leave you with soft, manageable hair. Moisture, moisture, and more MOISTURE! 
Hair Type
This conditioner works on ALL Hair types. Yup, even if you have more than one type in your crown!
Organic Ingredients:
Distilled Water, Aloe Vera Butter, Grapeseed Oil, Apricot Kernel Oil, Behentrimonium, Aloe Vera Juice, Guar Gum, Optiphen Plus (a paraben and formaldehyde-free preservative), Fragrance. 
This product will last 12 months and does not need to be refrigerated.
---
We Also Recommend
Customer Reviews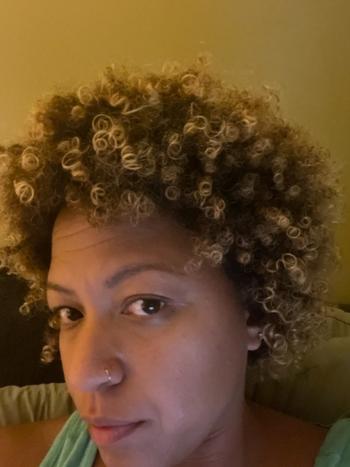 07/07/2021
I recommend this product
Fluffy
I recommend this product but pick the right scent I had the cream combination with leave in left my hair soft but a bit too oily I have 3c/4a hair so far it had moisture
Yanigris R.

United States
07/11/2021
EarthBorn Organics
Hello Yanigris, Your hair is so beautiful. Thank you for the feedback. Sounds like you may have low porosity hair. So we would recommend trying only the leave-in versus using it in conjunction with another product. Sounds like you don't need it to hold your moisture. As for the scent, it is always hit or miss when trying a new scent, that is why we like to give options. We can't even imagine having a great product that only comes in one scent like most other companies...thats why we allow you to pick from over 15 great scents - to find what scent fints you!
10/07/2021
I recommend this product
Love the Aloe Leave-In Conditioner
A little goes a long way and I love the scent. My hair always feels soft but keeps its hold. Perfect for my on the go day.
Rachelle F.

United States
04/08/2021
I recommend this product
Excellent
I love the smell and the consistency. My hair has never been this soft.
Melvina D.

United States
03/16/2021
I recommend this product
absolutely amazing!
I have 4c low porosity fine hair and have struggled tremendously with trying to find the right products that keep my hair moisturized. This Aloe Leave-In Conditioner is absolutely amazing. It has so much slip and melts through my tangles! I pair it with the Kukui Hydration Cream and my hair has never felt more soft and moisturized. My jaw literally dropped when I took out my twist out today, my hair feels the best it's felt in years!
kinjhi

United States
01/25/2021
The Slip though.....
Incredible slip and moisture that lasts for 7 days! Definitely a staple product!
Angelica M.

United States